Do You Know the Top 10 Destinations in Africa?!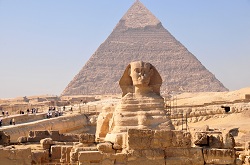 Probably, Africa is the most adventurous continent of the world with more than 50 countries each of which has specific features and characteristics. If you are planning to visit this part of the world, you need to have some imagination before your vacation starts. You would need a list of best places to visit in Africa to get a general picture.
Top 10 Destinations in Africa
We have created a list of top 10 destinations in Africa just as a starting point for those who are going to travel to this region. These cities are among the best destinations worth visiting in Africa. With that being said, the list could go on for ever and include more cities with suggestions from you. So, go ahead and leave your valuable thoughts below!
1. Marrakech, Morocco:
Known as the "Ochre City", Marrakech is by far the most important former imperial city in Morocco's history. The city atmosphere is composed of an old fortified city and modern neighborhoods giving it a special position in the region. While you are there, make sure to visit attractions like Medina of Marrakech, Agdal Gardens, Ali Ben Youssef Medersa (Madrasa) and Maison de la Photographie Museum!
2. Cape Town Central, South Africa:
Cape Town, as the second-most populous city in South Africa, is one of the most multicultural cities in the world. Perhaps Blaauwberg Beaches (Table Bay Beaches) and Kirstenbosch National Botanical Garden nestled at the foot of Table Mountain are the two most important attractions of this city, but you may also enjoy hiking trails and wildlife encounters as well as visiting the Robben Island!
3. Maasai Mara National Reserve, Kenya:
Maasai Mara is a very large national reserve in south-western Kenya, known for its exceptional population of wildebeests such as lions, leopards, cheetahs, zebras, gazelles, game and a lot more (over 1.3 million)! This destination is a perfect place for nature lovers. Also, remember to visit other attractions such as Mara River, Eluai Plain and Musiara Swamp!
4. Kruger National Park, South Africa:
Kruger National Park is one of the largest game reserves in Africa reflecting basically the word "Safari". You can literally see a huge selection of birds, mammals, reptiles as well as variation of flowers and trees. There are a couple of archeological sites to visit, too!
5. Port Louis, Mauritius:
Mauritius is probably one of the smallest yet wealthiest destinations in Africa, situated as an island nation off the southeast coast of Africa in the Indian Ocean. Once you're there, enjoy visiting Ile des Deux Cocos, Casela Nature and Leisure Park and of course the Pereybere Beach!
6. Zanzibar, Tanzania:
As a semi-autonomous part of Tanzania, Zanzibar is mostly composed of the Zanzibar Archipelago in the Indian Ocean. The city is the home of the endemic Zanzibar Red Colobus Monkey, the Zanzibar Servaline Genet, and the Zanzibar Leopard. Also, make sure to visit attractions like Paje Beach, Zanzibar Butterfly Centre and Stone Town!
7. Victoria Falls, Zimbabwe:
This town lies on the southern bank of the Zambezi River at the western end of the Victoria Falls. Bungee jumping from the Zambezi River Bridge and walking with Lions at Victoria Falls are probably the best activities in this destination.
8. Johannesburg, South Africa:
As the largest city in South Africa, by population, Johannesburg is another metropolitan city in the region. Nature, history and shopping are the top reasons that attract many travelers to this destination. However, don't miss Apartheid Museum, Constitution Hill and FNB Stadium!
9. Cairo, Egypt:
As the largest city in the Arab world and Africa, Cairo is not just a metropolitan city, but an old ancient destination. The Pyramids and the Old City are fascinating landmarks you may never miss. Additionally, try to visit other attractions such as the Solar Boat Museum, Egyptian Antiquities Museum and Gayer-Anderson Museum!
10. Fes, Morocco:
As the second largest city of Morocco, Fes is home to a UNESCO World Heritage Site, Fas el Bali. Al-Qarawiyyin is probably the oldest education center in the history functioning even today. Medina of Fez, Sahrij Medersa and Bou Inania Medersa are the must-see attractions in the city.
In reality, it takes forever to visit each and every destination in this great continent. However, you can always start from somewhere and then add more cities to your checklist in every new occasion. Africa is an amazing region to travel, browse and entertain especially if you are a big fan of nature and history.
Remember that you can always find something interesting among the Best Vacation Packages Online!
Did you like this article? Why not share it with others? Also, make sure to subscribe and get the latest updates on this website!
Top 10 Destinations in Africa!
OfferShowcase.com Team
Top 10 Destinations in Africa

,
Top 10 Destinations in Africa