Do You Know the Top 10 Destinations in Asia?!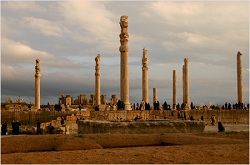 Asia, as the world's largest and most populous continent, has unlimited destinations for any kind of visitor and traveler. Most of the ancient countries such as Iran, China and India are situated in this part of the world as well as many other countries and regions with eye-catching attractions and beautiful sights.
Providing a top ten list is not an easy task when we are specially talking about Asia Destinations. Even if you are going to travel the whole length of your life, you could only see a fraction of destinations located in this continent.
Top 10 Destinations in Asia
The list below mentions just the top 10 destinations in Asia without any specific order. Again, you may think of other places as well when you are reviewing this list. So, go ahead and add your comments below about your favorite destination in Asia!
1. Tokyo, Japan:
When we talk about Tokyo, everyone is thinking of an extremely modern destination with electronics shops, skyscrapers, bars and clubs. But, without a doubt, Japan has tradition and history, too. That's why you could find a lot of shrines and temples there, too. When you are there, make sure to check out places such as Tokyo National Museum, Shinjuku Gyoen National Garden, Sensoji Temple and Tsukiji Fish Market!
2. Singapore, Singapore:
This metropolitan city is a nice place to visit not just because it's a modern atmosphere, but also because it's a very safe and clean city. Singapore Zoo, Singapore Botanic Gardens and National Museum of Singapore are just some of the top attractions whereas you should not miss historic sites such as Thian Hock Keng temple.
3. Siem Reap, Cambodia:
Siem Reap is a wonderful place because of its location; since it's the nearest destination to the Angkor region. The ruins of Angkor are a UNESCO World Heritage Site, making an amazing Archaeological Park. If you are in Siem Reap, try to visit places like Angkor Wat, Bayon Temple and Ta Prohm!
4. Shanghai, China:
Shanghai is one of the modern cities in China, giving an energetic impression to its visitors. This administrative, shipping, and trading town is now one of the busiest destinations in the world getting tourists from any part of the globe. The Bund, Garden of Contentment (Yu Yuan Garden) and City God Temple are the top historical landmarks you may not miss at all.
5. New Delhi, India:
India is an ancient, cultural and traditional country with a big population and New Delhi, as the capital is just a part of that combination. Baha'i House of Worship as known as Lotus Temple are one the most prominent attractions in New Delhi. This metropolitan and modern city is also home to two UNESCO World Heritage Sites; Humayun's Tomb and the Qutub complex. Just make sure to put enough time for visiting this destination properly and don't get surprised by the traffic!
6. Beijing, China:
In a big country like China, mentioning only one top destination is not enough. Beijing as the country's political, cultural, and educational center is famous for its abundant palaces, temples, and huge stone walls and gates. Even weeks are not really enough to just see the surface of this metropolitan city. Since many tourists don't have all the time and money in the world, it's recommended to prioritize wonderful attractions such as the Summer Palace, the Forbidden City, The Temple of Heaven and most importantly the Great Wall of China.
7. Chiang Mai, Thailand:
It is the largest and most culturally significant city in northern Thailand and derives its importance from its close proximity to the Ping River and major trading routes. When you are there, make sure to visit attractions such as the Elephant Nature Park as well as religious site like Wat Chedi Luang, and Wat Phra That Doi Suthep!
8. Hong Kong, China:
Again, another city of China is in the list because of its population, modernity and economy. Although this region has a fairly different system than China, it has still its similarities to its origin. Don't forget to put attractions such as Victoria Peak (The Peak), Star Ferry Pier, Ngong Ping 360 as the top must-see places in your list when you visit Hong Kong!
9. Isfahan & Shiraz, Iran:
Iran as a big country with a great population is an ancient region in the Middle East with more than 2,500 years of history. It's not fair if we ignore mentioning some famous Iran's cities such as Isfahan (Esfahan) and Shiraz in this top ten list no matter what you have heard about Iran. Isfahan, located in the lush plain of the Zayandeh River, is renowned for culture, history and paintings and has a wide variety of historic monuments around the city having Naghsh-e Jahan Square, as one of the largest city squares in the world, designated by UNESCO as a World Heritage Site.
Shiraz, known as the city of poets, literature and flowers is another most populated city of Iran containing some of the most beautiful attractions such as the tombs of poets Hafiz and Saadi and The Eram Garden. The city is the closest destination to Persepolis, a World Heritage Site declared by UNESCO with an ancient history as old as 2,500 years ago.
10. Malé, Republic of Maldives:
As the capital and most populous city in Maldives, Malé is an attractive island for many tourists. If you are going to spend your vacation there, then make sure to see attractions such as The Old Friday Mosque, Fish Market and National Museum!
Asia has unbelievable attractive sites to discover, visit and enjoy. Either you live in this continent or are planning to visit a specific region, make sure to check out this top 10 list, as well in order to have an imagination!
And if you are looking for a hot travel deal, take a look at the Best Vacation Packages Online!
The list can go on and on and on forever and could become more extensive. With that being said, it's your valuable comments and suggestions that can make it richer. Leave your opinion below and let others know about your favorite Asia destinations!
Did you like this article? Why not share it with others? Also, make sure to subscribe and get the latest updates on this website!
Top 10 Destinations in Asia!
OfferShowcase.com Team
Top 10 Destinations in Asia

,
Top 10 Destinations in Asia