Do You Know the Top 10 Destinations in Central America?!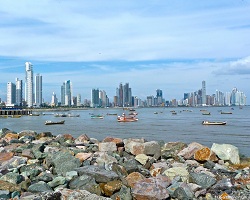 Central America, as a subcontinent connecting North with South America consists of the seven states of Belize, Costa Rica, El Salvador, Guatemala, Honduras, Nicaragua, and Panama. Believe it or not, each and every country has some specific attractions with wonderful sights and landmarks.
If you are planning to visit Central America, then you should look for a top ten list to get a better imagination. Tropical climate and Spanish language are the two most outstanding features in many destinations in this region.
Top 10 Destinations in Central America:
We have listed the best 10 destinations in Central America without any order of importance. These cities are among the top places in this part of the globe. However, the list could have been much bigger and more cities could have been mentioned. If you know a top destination, add it in your comments below!
1. Antigua, Guatemala:
As the departmental capital of Sacatepéquez Department, Antigua is one of the few destinations in Guatemala which has been designated a UNESCO World Heritage Site. The cobblestone streets remind you the Spanish colonial architecture. Visiting ChocoMuseo is one the best things to do in Antigua. Also, try to visit attractions like Arco de Santa Catalina, The Plaza (Parque Central) and the Street market!
2. Tamarindo, Costa Rica:
Tamarindo is located on the Northern Pacific coast of Costa Rica and is a well-known destination for activities such as surfing, diving, sunning and sport fishing. Perhaps the most interesting thing to do is watching turtles during their nesting season at night. However, don't forget other things such as Kelly's Surf Shop and School, Xplore Costa Rica and Off Road Costa Rica!
3. Panama City, Panama:
As the largest city and capital of the Republic of Panama, Panama City has a diverse multicultural atmosphere. Just make sure to visit the Old City and take advantage of the environment consist of churches, palaces and plazas! If you are a fan of hiking and birding, then Soberania National Park could be an excellent option for you. Additionally, you should consider visiting attractions like Panama Canal, Gatun Lake and Reprosa – Treasures of Panama.
4. San José, Costa Rica:
San José is the capital of Costa Rica and its largest city which has been almost entirely influenced by the European culture. Theaters, museums and houses in the city center are mostly influenced by that European architecture. This very safe city shows the least violence in the region. Top attractions such as the National Theater, Gold Museum and Orosi River Valley are among the best places to see and enjoy.
5. San Ignacio, Belize:
As a town situated on the banks of the Macal and Mopan Rivers, San Ignacio is one the most popular parts of Belize. If you are looking for an adventurous destination that matches any budget, then this city is a good one to visit. Just make sure to see attractions like the Ancient Caracol Mayan Ruins, Barton Creek Cave, Cahal Pech Mayan Ruins & the Museum!
6. Granada, Nicaragua:
As the historical, economic and political point of view, Granada is one of Nicaragua's most important cities rich in colonial heritage in its structure and architecture. Perhaps it is the Nicaragua Lake that attracts travelers from any part of the globe to this city sailing and cruising on the lake. Don't forget to visit Mombacho Volcano and Guadalupe Church as wells as the spa treatment facilities!
7. Belize City, Belize:
As the largest city of Belize and the most important financial and industrial hub in the country, Belize City is situated at the mouth of the Belize River on the coast of the Caribbean. One of the outstanding attractions is the Swing Bridge, the only functioning manually operated bridge in the world. Belize Zoo, Bannister Island, St John's Cathedral, Cayo District's caves and Maya archaeological sites are among other top attractions worth visiting.
8. West End, Honduras:
The West End in Honduras is probably well-known for its offshore and underwater. Those who are big fan of scuba diving and snorkeling may find this destination fantastic. Anyway, make sure to visit Enomis Divers in Roatan as well as the Butterfly Gardens! Golf lovers may also enjoy the Temenos Golf Club!
9. Guatemala City, Guatemala:
As the capital and largest city of the Republic of Guatemala and Central America, Guatemala City offers a mixture of Maya history and contemporary culture to its visitors. Museo Ixchel del Traje Indigena (a natural history museum), Edificio de Correos Central (a post office building), Palacio Nacional (an art museum) as well as a botanical garden and a scale replica of the Eiffel Tower are among the best attractions of Guatemala City.
10. San Salvador, El Salvador:
San Salvador is the capital city of the Republic of El Salvador and the country's main cultural, political and financial center. Although many Spanish-influenced architecture has been destroyed by natural disasters, a few has survived. National Palace, Metropolitan Cathedral and National Theater are some examples. When you are there, try to see Lake Coatepeque, Parque Nacional El Boqueron and Joya de Ceren Archaeological Site!
Central America has its own characteristics between two other subcontinents, North and South America. Therefore, you will see a combination of both regions also mixed with European atmosphere. The list above mentions only the top 10 destinations in Central America which serves as a checklist for regular travelers. With that being said, you might be thinking of another city or town which deserves the same love. Why not share it with us?!
Also, don't forget to check out the Best Vacation Packages Online if you are planning to visit any of these destinations or any other city!
Did you like this article? Why not share it with others? Also, make sure to subscribe and get the latest updates on this website!
Top 10 Destinations in Central America!
OfferShowcase.com Team
Top 10 Destinations in Central America

,
Top 10 Destinations in Central America