Do You Know the Top 10 Destinations in North America?!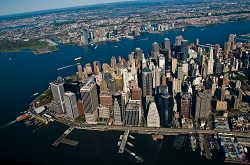 North America is the third-largest continent and contains very popular countries including United States, Canada & Mexico with significant and multifaceted economic systems, attracting visitors and travelers from all over the globe.
When you are planning to visit a destination in North America whether you live in this continent or not, it's always a good idea to check out a top ten list to have a better imagination of your nest trip. Who knows?! You might be done visiting all these cities some day!
Top 10 Destinations in North America:
The list below shows the top 10 destinations in North America without any certain order of importance. All of these places are great cities to visit and stay. Since United States is the biggest player in the region, there is no surprise to see a lot of U.S. cities in the list. With that being said, you may think of other destinations which are still worth seeing in North America. That's fine! Add your comments below, too!
1. New York City, New York, United States:
As the most populous city in the United States and the most populous metropolitan areas in the world, New York is a must-see destination for everyone willing to visit United States. It is well-known not only for its financial importance, but also due to its famous bridges, skyscrapers and parks. If you are there, don't forget to visit the most important attractions such as the Empire State Building, the Statue of Liberty, Times Square, Brooklyn Bridge, Greenwich Village and Central Park!
2. Las Vegas, Nevada, United States:
This international popular resort city is renowned for casinos, shops and fine restaurants. As the entertainment capital of the world, Las Vegas is a must-stay destination even for a couple of days. Just remember to visit places such as Bellagio Fountains, The Stratosphere, Red Rock Canyon National Conservation Area and The Beatles – Love – Cirque du Soleil!
3. San Francisco, California, United States:
As one of the leading financial and cultural centers of Northern California, San Francisco attracts tremendous amount of visitors each and every year because of its cool summers, fog, architecture, steep rolling hills, and landmarks such as the Chinatown, Ferry Building Marketplace and Golden Gate Bridge.
4. Honolulu, Hawaii, United States:
It is the most populous city and the capital of the U.S. state of Hawaii and refers to one of the most-visited destinations in North America. It is renowned for its famous historic port, Pearl Harbor involved in the Japanese attack in 1941. The city has a massive skyline located mostly in its downtown. If you are in Hawaii, try to visit Honolulu Hale in the downtown as well as other attractions in neighborhood of Honolulu such as Diamond Head and Waikiki Beach!
5. Los Angeles, California, United States:
L.A. is the second most populous city in the United States and a leading world center of many fields such as business, international trade, education, science, technology, culture, media, entertainment, fashion and sports. It is home to the most popular entertainment site of the world, Hollywood. Being in this city with full of sunshine is a dream to many people. Just make sure to have enough time staying in L.A, visiting important attractions such as The Getty Center, Griffith Observatory, Venice Canals Walkway and Walt Disney Concert Hall!
6. Miami, Florida, United States:
This very populous city of Florida State is also renowned for finance, culture, media, entertainment, arts, and international trade. If you love beach resorts, then choose Miami Beach as the coastal resort city in Miami-Dade County! Otherwise, Downtown Miami is also a recommended place for those who want to enjoy an urban residential neighborhood visiting amazing attractions such as Freedom Tower, Gusman Center and American Airlines Arena. Also, Vizcaya, or the Vizcaya Museum and Gardens is another attraction in the neighborhood Coconut Grove is worth seeing.
7. Vancouver, British Columbia, Canada:
This coastal seaport city in British Columbia is a popular metropolitan area in Canada, famous for nature and entertainment. You can use SkyTrain as a light rapid transit system in Metro Vancouver as a smart way to view the city. Additionally, you take a kayak out on English Bay and enjoy. Just make sure to visit famous attractions such as Stanley Park, Granville Island, Lynn Canyon Park and Vancouver's Chinatown!
8. Montreal, Quebec, Canada:
This Parisian-style metropolis is a cultural city with French as its official language. Beside its classic and old-fashioned style, you can also find another atmosphere of culture, technology and commerce. Try to see attractions like Notre-Dame Basilica, Jean-Talon Market, Le Plateau and La Joute!
9. Toronto, Ontario, Canada:
As the largest city of Canada, Toronto refers to the best commercial center of country due to its popular Stock Exchange. On top of that, high class theater, shopping and restaurants are specific features of this destination. If you are in Toronto, you'll definitely enjoy visiting eye-catching attractions and landmarks. Don't forget the CN Tower, Distillery Historic District and Bata Shoe Museum!
10. Mexico City, Mexico:
As the country's largest city, Mexico City is renowned for its political, cultural, educational and financial position in Mexico. Museums, parks and restaurants give an image of old history combined with the contemporary life. The golden Angel of Independence, National Museum of Anthropology, Fine Arts Palace and The Torre Latinoamericana are probably the most important landmarks to see.
North America is a huge continent and visiting even the top 10 destinations is not an achievable task for everyone. But, it doesn't mean you cannot see anything at all. Start at least with a popular destination, whether you live in this part of the world or going to visit it! After some years, you will have seen a lot, too!
Always, make sure to check out the Best Vacation Packages Online in order to not miss anything at all!
Did you like this article? Why not share it with others? Also, make sure to subscribe and get the latest updates on this website!
Top 10 Destinations in North America!
OfferShowcase.com Team
Top 10 Destinations in North America

,
Top 10 Destinations in North America