Do You Know the Top 10 Destinations in Oceania?!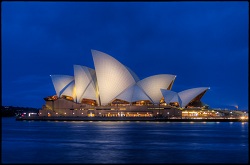 Oceania is actually the tropical part of Pacific Ocean comprising huge regions such as Australia, New Zealand, Papua New Guinea and many other islands.
While traveling to this part of the world may seem a dream to many people, it's still one of the hottest destinations in the globe attracting traveler each and every year. We do recommend you to at least pick one of these wonderful attractions and arrange your next vacation based on that!
Top 10 Destinations in Oceania
We have created a list of top 10 destinations in Oceania as a checklist for travel lovers without any specific order of importance. The list includes many popular cities in the region having attractive characteristics. Since the mainland of the region is Australia, no wonder if you see many destinations from this country alone. You can also add your own thoughts and let us know if you have other destinations in mind. Feel free and share the list with your family and friends!
1. Sydney, Australia:
As the most populous city in Australia, Sydney ranks highly for many features such as culture, urban structure, architecture and economy. It is home to Sydney Harbour where the iconic Sydney Opera House and the Harbour Bridge feature prominently. Manly Beach, Bondi Beach, Hyde Park and the Royal Botanic Gardens are other must-see landmarks.
2. Melbourne, Australia:
Melbourne is the second-most populous city in Australia and is located on the large natural bay known as Port Phillip. The metropolis has been ranked as the world's most liveable city for several times and is renowned for major events and festivals, literature, film, television, drama, musicals, comedy, music, art and architecture. You may not miss popular attractions such as Shrine of Remembrance, Melbourne Cricket Ground, Royal Exhibition Building, Eureka Tower, Dandenong Ranges and St. Kilda Beach!
3. Perth, Australia:
Perth is another metropolitan city in Australia located on the Swan Coastal Plain. The metropolis is famous worldwide as the "City of Light" when city inhabitants lit their house lights and streetlights. When you are there, make sure to visit Kings Park & Botanic Garden, Aquarium of Western Australia, Fremantle Prison, Parliament House as well as the City Beach, Sorrento Beach and Swan River!
4. Adelaide, Australia:
As one of the largest cities in Australia, Adelaide is the site of many governmental and financial institutions. Economy, culture, food, sport, festivals and beachfronts are the top features of this metropolitan city that attracts visitors every year. Landmarks such as Cleland Wildlife Park, Art Gallery of South Australia and Adelaide Central Market are the top must-see attractions.
5. Auckland, New Zealand:
Auckland is the largest and most populous urban area in New Zealand, located in the North Island of the country. It is one of the few cities in the world to have harbors on two separate major bodies of water. Make sure to visit Downtown, Auckland Town Hall, Auckland Museum, Viaduct Harbour and Waitakere Ranges when you are there!
6. Christchurch, New Zealand:
As the largest city in the South Island of New Zealand, Christchurch is an urban area situated on the east coast of the island. Avon River flows through the center of the city giving it an appealing appearance. Try to see landmarks like Christchurch Botanic Gardens and of course the Peacock Fountain, Christchurch Cathedral, Christchurch Art Gallery as well as Boatsheds on the Avon River!
7. Wellington, New Zealand:
Wellington is the capital city of New Zealand and is situated at the southwestern tip of the North Island. It is known for arts scene, café culture and nightlife making it as 'the coolest little capital in the world'. Top attractions include Museum of New Zealand, Mount Kaukau, Southward Vintage Car Museum and Native Botanic Garden.
8. Canberra, Australia:
As the capital city of Australia, Canberra is the site of Parliament House, the High Court and numerous government departments and agencies which means a city with a high urban structure. With that being said, you may visit landmarks such as Australian War Memorial, National Gallery of Australia, Questacon (Science Museums) and the Parliament House.
9. Port Moresby, Papua New Guinea:
As the capital and largest city of Papua New Guinea (PNG), Port Moresby is situated on the shores of the Gulf of Papua. Although the city was listed as one of the world's least livable cities according to The Economist, it has its unique attractive features. Port Moresby Nature Park, Parliament House and National Museum and Art Gallery are probably the best attractions in this destination.
10. Port Douglas, Australia:
Port Douglas is a town in Far North Queensland, Australia having a small population. However, the town is renowned for its tropical climate and beaches. While you are there, make sure to visit Wildlife Habitat and Four Mile Beach! Kite surfing, horse riding, scuba diving, snorkeling and playing Golf are some of favorite activities in Port Douglas.
You see, the list just includes the top 10 destinations in Oceania, but there is a lot more. That's why you have to interact and leave your suggestions below!
By the way, we recommend you to check out the Best Vacation Packages Online if you are really interested in getting the hottest travel deals!
Did you like this article? Why not share it with others? Also, make sure to subscribe and get the latest updates on this website!
Top 10 Destinations in Oceania!
OfferShowcase.com Team
Top 10 Destinations in Oceania

,
Top 10 Destinations in Oceania