Do You Know the Top 5 Features Of an eTextbook?!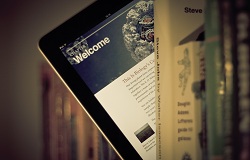 eTextbook is a digital or electronic version of the physical textbook yet with some better advanced features and advantages.
eTextbooks and eBooks are usually available on the Internet as free or paid downloads, free or paid subscriptions and other formats. It should be identical to the print version in terms of content and page pagination.
For someone who is a college student, using eTextbooks is a helpful method especially when access and speed are two major parameters in studying.
Top 5 Features Of an eTextbook:
Have you ever wondered why you should use an eTextbook?! Here are the top 5 features of an eTextbook you need to know. Next time, before you buy your college books and supplies, you may think of this great option as well and try this new method, too! Who knows?! It may affect your study results in a good way.
1. Easy Access:
Perhaps the very first feature of using an eTextbook is its simple accessibility. Since it is in digital format, the book can be accessed literally from any device, anywhere in the world. Some eTextbooks require Internet access; some can be downloaded directly to your device. That being said, you can have access to your textbooks where you go and where you live.
2. Easy Navigation:
Although navigating a physical book is not that hard either with the help of table of contents and indexes, but the eTextbook can be navigated in a much higher speed and convenience. Just enter the topic title or page number and you'll be there in seconds!
3. Easy Search:
Again, having a complete index in a physical book can save you a lot of time while searching for a specific term or keyword. In an eTextbook, that search is much quicker and easier. You can search a phrase and find it as quick as a wink.
4. Easy Interaction:
Being able to highlight, take notes, bookmark, copy and paste, print and send by Email to someone else are some of the most important things you can do while using an eTextbook. In fact, some of these features make using an eBook a much more convenient way than its physical version.
5. Easy Production & Recycle:
This feature goes beyond all the others because it mainly focuses on more ethical and environmental aspects. Imagine living in a world when less physical books are needed, fewer papers are required and much fewer trees are needed to be cut! In addition, issues about recycling and damage to the ecosystem would be reduced in some extent or even gone forever. Although this is like much more a dream than reality but promoting a culture where more people tend to use digital formats of printed texts is always a constructive mission.
With that being said, when it's time to buy a new book, make sure if there is an electronic version available! Either you want to buy or rent a textbook, try to find a digital format! If you are looking for the top textbook resources, check out these Best Online Textbook Rental Services today!
Did you like this article? Why not share it with others? Also, make sure to subscribe and get the latest updates on this website!
Top 5 Features Of an eTextbook!
OfferShowcase.com Team
Top 5 Features Of an eTextbook

,
Top 5 Features Of an eTextbook