Do You Want To Learn More About the Travel Survey 2012?!
Taking surveys is a helpful method for both consumers and companies. A travel survey is not an exception and allows many travel companies and agencies to get the information from the survey and analyze the demand. On the other hand, consumers or better said, travellers find surveys useful as well because they have their voices heard as well as can see what others are thinking and doing. It would give them also tips about demands and requests.
Recently, Hostelworld.com has teamed up with Lonely Planet to provide a survey over 5,600 travellers around the globe and extracted interesting facts about traveling. It has been illustrated as an Infographic and published on their blog as "We asked, you answered – the Hostelworld/Lonely Planet Travel survey". We have included the Infographic here, as well because we thought it's worth seeing and reading!

As you have noticed, United States of America is still the top destination in 2012 and more than 90% would consider staying in a hostel for a holiday or vacation. That's why we highly recommend Hostelworld.com as the best hostel booking service ever!
And if you are looking for other accommodation options, we do suggest you to check out these Best Hotel Deals Online before your next trip!
Did you like this article? Why not share it with others? Also, make sure to subscribe and get the latest updates on this website!
Travel Survey 2012!
OfferShowcase.com Team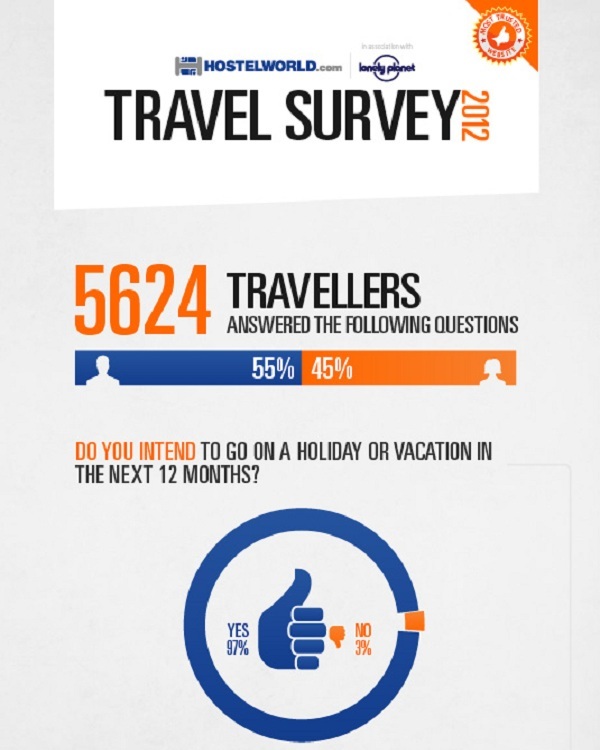 Travel Survey 2012

,